Get Ready for Bloggy Olympics!!!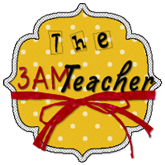 Join The 3AM Teacher, the Reading Olympians, and over 80 SUPREME education bloggers as we take you through a tour of the Reading Olympians Root Study Program!!
First, I have to say this program is Ah-mazing!
I had the chance to preview the program for intermediate grades a few months back when Krista and Julie from the Reading Olympians, were part of my Moving Forward Fundraiser. I was very impressed with it then.
So imagine my excitement when they added a primary grades component, and then teamed up with Michelle, the 3 AM Teacher, for the graphic design and The Pass the Torch Linky. This was an opportunity I could not pass up. Being the huge phonics teacher I am, I jumped right on this linky!
The ladies sent me the
Jr. Olympians First Grade Roots, which c
ome with everything you need to begin instruction of prefixes, suffixes, and what we refer to as inflectional endings. The materials include an instruction guide, parent letters, teacher organizers, word wall cards, chants, student organizers, assessments, and certificates; a plethora of resources!
It could not have come at a more perfect time. Some of my students had begun to notice and ask questions about prefixes and suffixes. So I have just begun implementation this week (which was a short week for us). I started with the Jr. Apollo set which includes bi-, -er, re-, pre-, and un-. There are so many ways you could use the components of this program.
This is what and how I chose to teach the lesson.
I began the lesson by projecting the picture book, which is included, to introduce the concept of prefixes and suffixes.
I read through the picture book, stopping and reviewing what each page meant and how it relates to us as readers.
Then I began a focus on the prefix re- and un-. With the printed cards, I placed them in a pocket chart as headers. Then I gave each student a root word card. I asked them to explain what their root word meant. Then I had them "attach" the correct prefix and state the new meaning.
My kids were loving the changing of the words. I had a few who noticed they had read those words before. I could see the lightbulbs going off!
The next day, we reviewed the lesson. Then I placed the materials in the pocket chart station and let the kids have at it. After they matched the prefix to the root word, they wrote down their words.
Next week, we will continue on with bi- and pre-. Since we will have a full week of school, we will start putting together the roots notebook, where the students can keep a record of the affixes.
I am IN-LOVE with this program. I am so excited to have a new tool in my toolbox to teach reading with. I cannot say enough great things about
Jr. Olympians First Grade Roots. I will keep you posted as we move forward with the program, but I can say at this point, I

KNOW

it will make a huge difference in my students vocabulary and reading development.
a Rafflecopter giveaway