This week is Teacher Appreciation Week. My school does a pretty good job of making us feel appreciated year round. But I am always up for a good celebration. I can't wait to see what they have in store for us this week.
We all know we work hard all year long. Despite what our contract calendars say, we work pretty much every day for our students. Whether it's shopping for new materials or classroom themes or web surfing for the latest and great teaching ideas. We ALWAYS have teaching on our minds.
Over the past two years, teachers have taken over the blogging world. I jumped in about a year and a half ago (I think!). Never would I have imagined it would turn out how it has. My teaching has be re-invented, my passion re-invigorated. I learned to reflect daily on my teaching practices and where I want my students learning to go. I have learned more from blogs than any college or professional development class.
The biggest bonus of this journey has been the new friendships I have formed. Teachers from around the world, that I never would have met, have become a part of my every day life. From morning conversations, to late night laughing parties, to supporting one another on a day to day basis, while they remind me why I teach, they also remind me there is more to life than teaching.
Today, I am going to share them with you.
While I can't tell you our private conversations, I can share with you what they have brought to my teaching, my classroom, and my students learning. In no particular order, these are the women in my life that are helping me grow every day.
Every teacher has their special "gift" in some area. These are theirs.
has some wonderful monthly resources focusing on poetry. She writes all her own poems, such a gift with words for the little people. I can only imagine if she wrote for adults! And can you guess, she LOVES pigs!
Then there is my science guru...
Christina creates amazing science units. Her hands-on lessons and unique ideas keep the kids actively engaged while learning.
Check out her newest one. There are some excellent experiments I never would have thought of.
She is a fabulous graphic artist, as well as teacher. She created the ever popular ice cream graphics in my best seller, My Favorite Ice Cream Opinion Writing . But did you know she also makes math games?
I can always count on her lessons to be engaging and have enough materials to cover at least a week, (if not more) of the topic. She created this one just in time for me to use it in my class.
Everyone needs someone to tell it like it is, and I can always count on Danielle at Crayonbox Learning to do just that! =) She keeps me on my toes and always gets me thinking. When I was in college, her website was my go to for resources and inspiration. Now I go straight to the source!
What I love about her products, is she is ALWAYS spot on with what is developmentally appropriate for little people!
Another teacher I have met on this journey, is Christi. While she teaches intermediate grades, she has a great eye and she is amazing with computers. From blog design to tutorials on how to do techy things, she rocks!
She teaches those big kids, so her teaching products are out-ta my league.
But her graphics, oh-so-cute!
Everyone needs someone super creative in their life, and Laureen takes the cake for this!
I love how her center packs have an arrange of skills covered. Last month, I used her Bunny Trouble with my class. Now I am moving onto her I Spy games to keep those kids busy learning right till the end!
Who doesn't love a great game of I-Spy?
Then we have Wendy, who is clear across the world! She just screams "FUN!"
Speaking of fun, Susan and Kathy are the authors of
They bring humor to my life...
Have you ever had someone in your life who just makes you smile for no reason? That would be Cyndie from
She just makes me feel happy...then I look at her room themes, and think it maybe time for a change!
Karla's the one I know could have been a childhood friend. She has this amazing sweetness about her. She used to be the One Room Schoolhouse, and I can just picture her teaching in it!
She has some great resources.
Do you follow Primary Paradise? She is just resourceful and creative!
She hunts out the best freebies and blogs about them!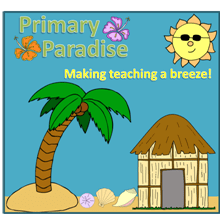 Her products are pretty amazing too! My kids LOVE this one.
Lesley inspires me to want to learn more about writing and how to teach it.
She is just amazing with her writing units.
Then last, but certainly not least, is Arlene. She doesn't have a blog (at least not yet, we are trying to convince her!) But she does have a TPT store. She has been teaching many years, but she is not afraid to jump in and learn something new. She brings wisdom and years of experience to my life.
These are the women who keep me grounded when the world is turning upside down. They keep me on my toes, and my brain on overdrive. I wouldn't have it any other way. So as you are appreciating your co-workers this week, keep in mind the ones we don't "see" every day. This is just my way of appreciating them and what they do for me and my life every day.
Don't forget this week, we will be celebrating with you!