It's that time again! Mrs. Stanford is hosting the Magical Product Swap. I was paired up with Tamera from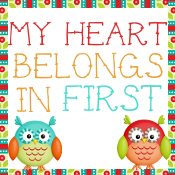 I love to see what other teachers are doing in their classrooms. It gets even better when you can swap products with another teacher. Tamera was sweet enough to share with me her data unit. It was the perfect assessment tool for my students when we completed our data study.
I began the graphing unit with a review of sorting and classifying. We spent 3 days sorting objects by their attributes and then moved onto tally marks. I began my review of tally marks by reading
(I just love the MathStart books. The kids love them too!)
I gave the students buckets of shells. The students worked with their math partners to decide on attributes to identify the shells. Then I modeled for the kids how we collect data.
They did a quick tally chart on their dry-erase boards to show the data for their shell buckets.
The next day, I reviewed the lesson with a SMARTboard activity. Then it was time for them to show me their learning and thinking. (This lesson was originally planned for my formal observation. But at last minute, it was cancelled.)
I found this great resource on TPT.
These were intended for math stations, but I had other plans!
The math partners were given bags of things to sort.
Once they had completed the sort, they had to create a tally chart;
all by themselves
.
First they drew the chart and developed a title.
Then they had to make it POP!

When they were complete, the pairs presented their tally charts. They also explained what the data told them, based on the questions from Tamera's data collection pack. This project took the course of the week to complete.
The next week, we moved onto picture and bar graphs.
I began this lesson with a reading of

Again, I followed the same format for bar graphs as I did with tally charts. There was lots of practice with sorting and graphing. Most of this week, we used the SMARTboard, so I don't have any photos.
Here is my model bar graph, which was taken from the SMARTboard tally chart we created the previous lesson.
On Thursday, I got a last minute final evaluation scheduled. Which worked out perfectly, because it was time for the students to transfer their tally chart data to a bar graph.
They drew out their own graphs.
Glued on their data labels.

Added their graphing lines, titles, and labels.

Then they had to explain to me how they transferred their tally chart to a bar graph. Again, they were presented with the question format from the Data Collection pack.
Here are the final graphs...


I love how this unit came out. The kids were so proud of their work. They were eager to explain to my principal everything they learned over two weeks. It was a shining moment for them, and she was really impressed.


For their final assessment, I used

Tamera's Data pack

. You can see from their answers, some need a little more practice with distinguishing when they need to name the answer or provide a number.

It was a great assessment tool.




The data collection pack was perfect for assessment. I was really able to narrow down which students needed reteaching and where based on the questions presented.

Lots of thanks to Tamera for letting me review this pack! =)
Follow the blog button to visit Tamera.