Oh my...the last time I blogged, I could not believe we were at the end of October...and now it's December! I somehow managed to miss the month of November.

I have been crazy busy trying to finish my last graduate class and cannot wait for December 11th to come! I will be done and have my Master's in Brain-Based Teaching in Literacy. =) I have learned so much that my brain is on overload...I don't know where to begin to change my teaching...I *think* I may take some time over winter break to figure that out.

I am hoping to be able to blog and create more. Every day I find something wonderful you all share and I want to share too!



I was so excited to get the Sunshine award from Stacy over at 2nd Grade Paradise. You have to go check her out! She is fairly new to blogging too. But she is SOOO funny. While you're visiting, make sure to follow her to.

So....The "rules" for the Sunshine award are: 1. Thank the person who gave this award and write a post about it. (already there!) 2. Answer the following questions below. 3. And pass the award to 10~12 fabulous bloggers, link their blogs and let them know you awarded them.

Favorite color? Purple...it just makes my heart smile! I heart all shades of purple...

Favorite animal? Dogs...would have to be, as my ShihTzu, Mr. Cooper is the love of my life...I know, kinda crazy...but when you have no kids, the dog becomes the kid! Great to snuggle with and let's me do my thing...and best of all, he doesn't talk so when I come home from work and just want quiet...I get it! =)

Favorite number? 24...For a few reasons...which I can no longer remember but there used to be! Several years ago I got hooked on NASCAR...so I am a huge fan...and 24 just so happens to be Jeff Gordon (don't judge *wink, I know he is not the favorite!). Besides the fact he drove the #24, he was also my grandma's favorite when I was growing up.

Favorite drink? Coffee...I used to be a Starbucks Mocha girl...until my sister got me addicted to Dunkin Donuts iced coffee...Mind you, I live 30 minutes from the DD and 40 from Starbucks...so whenever I head into town, it is a huge choice of which to have!

Facebook or Twitter? I am a Facebook girl...I tried twitter and within a week, I was dealing with spam and not-so-very-nice messages and posts...twitter is not my friend.

Getting or Giving? Giving...I love giving and sharing...probably too much! I think I may need a 12-step program for this...I give so much from my classroom that what I need when I need it...always seem to be in another teacher's room!

Favorite day? Hmmm...I guess this would be Sunday...no particular reason, other than I can sleep in!

Favorite flowers? Roses...purple, of course!

Passing this award onto...
Hope at
2nd Grade Shenangins
She is A-M-A-Z-I-N-G! She has a knack for creating fabulous units...she always gives me the spark I need to get moving!


Kelli at Castles and Crayons
Her blog is so cute!!! She just posted some really cute activities to go with There Was An Old Lady...



Anna at Crazy for First Grade.
Another amazing teacher!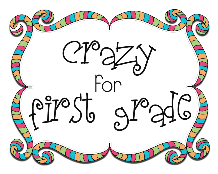 dandelions and dragonflies
She is so gifted with organization! She makes me jealous...=)

Jennifer at First Grade Blue Skies
Her blog design just makes me smile...She has FABULOUS ideas too!

I know I am supposed to have 10 to 12 and I could go on and on...as I am now following 300+ blogs...but my head is a hurtin'...=) It's been a long, crazy month!

I am hoping to have some holiday things to share this weekend! Be sure to stop back by!